Steven Rolph MBHI - Horologist
Steven is one of the country's qualified restorers, conservators and well respected clock repairers with over 25 years experience in the trade. He obtains the vast majority of his work through recommendations and referrals from clients nationally and internationally and also from esteemed organisations such as Christies. He has restored a number of Country House collections and has a number of private collectors from far afield as America and Australia.
At the age of 11 Steven's passion for clocks began with a family piece. At 16 he trained at the London School of Horology, studying Clock and Watch-making. He achieved a pass with Merit and first prize for his practical work. He was then awarded a bursary from the Worshipful Company of Clockmakers education panel, chaired by the late celebrated watchmaker Dr George Daniels, to attend the West Dean College, Antique Clock Restoration and Conservation Course and passed with Credit. The course is run in conjunction with the British Antiques Dealers Association. One of his interesting projects whilst there was an early Lantern clock, with an unusual striking Jack, made by "Abel Cottey", reputed to have been the first clockmaker in America.
After graduation Steven worked closely with experts in the trade for seven years, working on top quality clocks. He has served on the Council at the British Horological Institute, is on their professional repairer register and is a member of the Antiquarian Horological Society. He has been accredited "Approved Service Provider" by L.A.P.A.D.A for his level of restoration skills and at 26 was backed by H.R.H Prince of Wales Trust to form his own business. He has featured in "Hertfordshire Life", "The Clockmaker" and "Robb Report".
Steven is able to restore any type of domestic clock In addition to complicated astronomical, musical and automata. He has handled pieces by some of the most celebrated makers including, Thomas Tompion, Joseph Knibb, Edward Cockey, Dent, Cronier, LePaute, Robin and from the collection of the late Dr George Daniels, which sold at Sotheby's in November 2012.
He carries out specialist repairs not only to movements, but also cases and dials. With many years experience he has sourced the best enamellers, dial painters and case restorers for both wooden and ormolu cased clocks.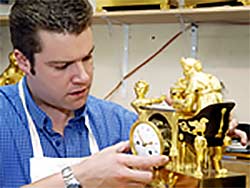 English Clocks
Longcase (grandfather), Regulators, Lantern, Bracket Musical & Repeating, Skeleton, Dial & Mantle
French Clocks
Boulle, Musical, Carriage, Four Glass, Comtoise. Regulators, Vineyard, Cartel, Ormolu, Portico, Mystry, Marble
German Clocks
Early Cuckoo & Trumpeter, Regulators, Early Torsion
American Clocks
Early Longcase, Bracket, Banjo, Torsion
Dutch, Swiss & Austrian Clocks
Longcase, Bracket, Mantle, Musical, Regulator